5 Online TTS Software in 2023: Turn Your Text to Audio Easily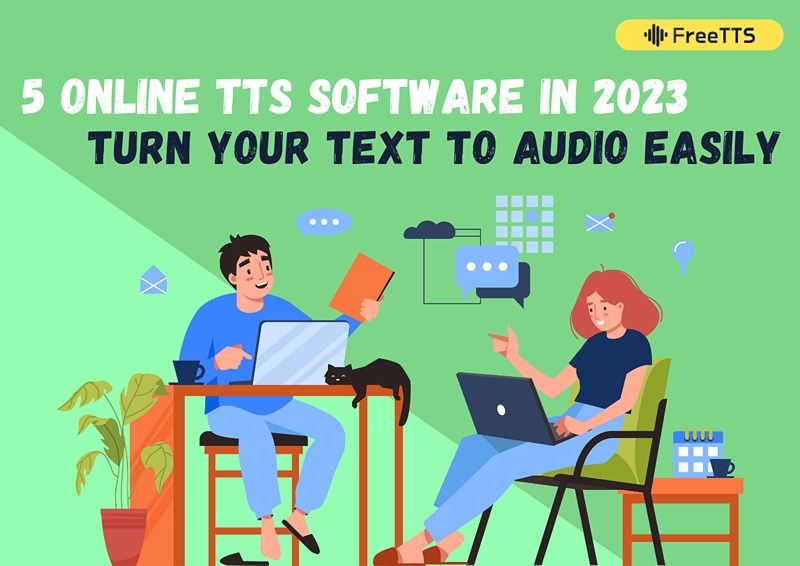 What is text to speech?
Text-to-speech technology is the final output of audio through the processing of input text. The user uses the audio according to different needs and scenarios.
Why use a text to speech software?
Removing barriers: Easy access to text content through audio for people with visual impairments and reading learning disabilities. A better understanding of information through listening.
Improves efficiency: People can listen to text to improve efficiency when doing household chores or multitasking. Some tools also support customization, where we adjust the sound and speed of the read-aloud.
Learning a language: We can read the content aloud through text-to-speech when learning a new language. This helps people learn the correct pronunciation of words and understand the new language better.
Business and Entertainment: Some tools are supported for business, corporate culture promotion and intelligent assistants. For entertainment purposes, create blogs and animated games with character voices.
Best 5 Online Text to Speech Software in 2023
What is FreeTTS?
Freetts is an efficient online text-to-voice generator with the Powerful AI Engine. Not only does it have TTS technology there is also Google Learning Machine for fast audio conversion. Supports up to 50+ languages and dialects, each with various male and female voices. Multiple language types from standard, Neural2 and then WaveNet Google Voice types.
Available platforms: Mac OS and Windows.
How to Use it?
Step 1: Go to https://freetts.com.
Step 2: Paste the text into the text input text box.
Step 3: Select the language you need to convert at the bottom of the text input box. Users can choose the type of sound they like under Google TTS or Amazon TTS under both sounds.
Step 4: Listen to the converted audio effect by selecting "Convert to MP3" and a play bar will pop up under the "Download MP3" button. Click Play to listen to the conversion effect.
Step 5: Click "Download MP3" to save it.
Price:
Free account: supports converting 10,000 characters per week and up to 1,000 characters in a single conversion. SSML support, standard Google Voice series only. Up to 50 languages are supported for conversion.
Monthly: $19/month. Unlock more characters, up to 1,000,000 per month and up to 5,000 per conversion. Unlock all sound types. Standard, Neural2, and WaveNet Google Voice types. SSML support.
Annual: $99/year. Up to 10,000,000 characters per month, with 5,000 characters converted in a single session. Enjoy the same features as the monthly plan.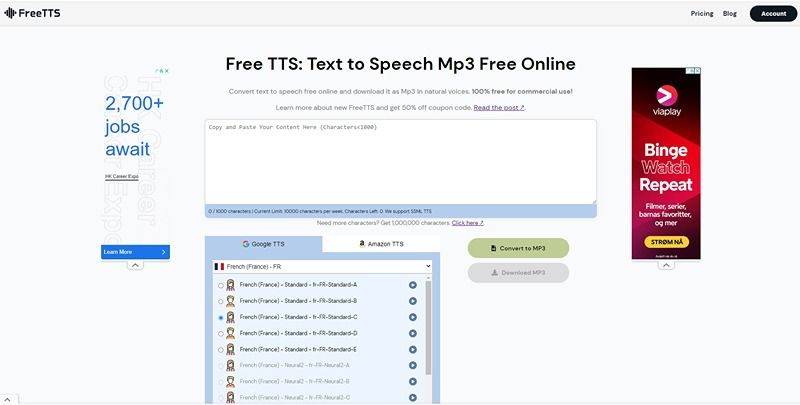 What is Big Speak?
BigSpeak is an online text-to-speech tool. Users can edit the input at any time. All your voice recordings are supported and can be easily accessed anytime. With support for six languages, users can choose easier or target understanding and lower language barriers for better results.
Available platforms: Windows and Mac OS.
How to Use it?
Step 1: Go to the webpage and see the text paste box. Fill in the text that needs to be converted to voice.
Step 2: Select the language, gender and input file type respectively on the box.
Step 3: After choosing, click "Generate voice" to pop up the audio bar. Click on the play icon to listen and check
Step 4: Click the "Download" button after the audio bar to download.
Price:
Free:  Converts 8,000 characters per month and 60 minutes of AI audio transcription per month.
Premium:$49 per month. 100,000 characters per month can be converted with super clear sound support. 180 minutes of AI audio transcription is supported.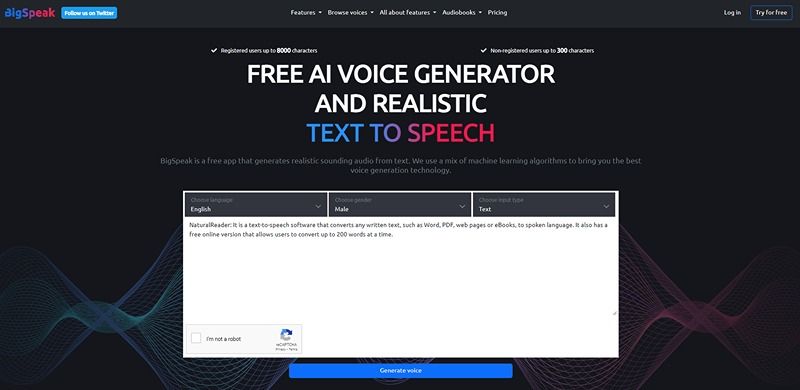 What is Voice Maker?
VoiceMaker is an advanced text-to-speech converter website. It combines the Neural TTS (NTTS) and Standard TTS engines. It is supported by a free-to-use online tool. By copying and pasting the text to be converted into speech in the operation box, the user selects the desired sound to be converted into audio output.
Available platforms: Mac OS and Windows.
How to Use it?
Step 1: Paste the text to be converted into the box in the middle of the page.
Step 2: At the top of the box, we can adjust the pause, speed, volume and say as needed.
Step 3: After the adjustment, you can choose AI Engine Standard or Natural on the left of the box below. As well as language and region.
Step 4: At the bottom of the box, we can choose the name and gender of the person, which is provided for us to select the good type.
Step 5: After selecting the voice type, click the blue "Convert to speech" button on the right, and wait a few seconds to complete the audio conversion.
Step 6: After the conversion, the audio bar will pop up under the box and play automatically.
Step 7: Some parameters can be adjusted in the bottom right of the box. Click "Download MP3" to download and save after the adjustment.
Price:
Free: Limited number of visits. Up to 250 characters can be converted at one time. Youtube video support. Support for personal use only.
Basic: $5 per month, $50 per year. Support SSML and Youtube videos. Up to 3,000 characters can be converted in a single session, 200,000 per month. Users can choose up to 750 sounds and 120 languages. It is possible to use it both personally and commercially.
Premium:$10 per month, $100 per year. Up to 3,000 characters can be converted in a single session, 500,000 per month. 1000 sounds and 130 languages for users to choose from. Supports cloud storage, file history, SSML and Youtube videos and new features for subsequent updates. You can use the service for personal or commercial purposes.
Business:$20 per month, $200 per year. Up to 10,000 characters can be converted in a single session, and 1 million per characters month can be converted. Support cloud storage, file history, SSML and Youtube video. Includes full functionality of the Premium Plan.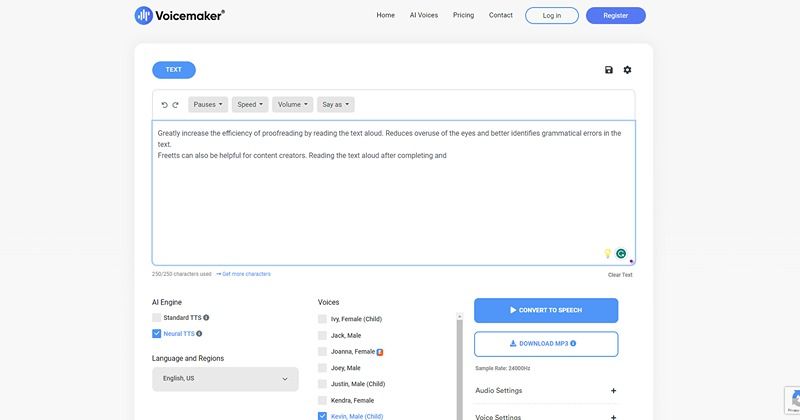 What is Natural Readers?
NaturalReader is a text to speech reader. It can convert any text to audio output. It also supports commercial paid versions for corporate co-creators, such as voiceovers for corporate promotions, neighbourhood culture promotions, etc.
Available platforms: Windows and Mac OS
How to Use it?
Step 1: Enter the official website and click "Start for free" in the top right corner.
Step 2: Place the content on the page and select the avatar at the top to change the type of sound. On both sides of the play button, there is a forward and backward playback speed, which you can adjust.
Step 3: In the top right corner of the page, there is an icon with the first tape icon at the bottom to show the sentence being played. The three dots on the far right are settings where you can download audio or adjust other parameters.
Price:
Premium Yearly: $4.99/per month. Unlimited use of natural sounds. Supports both cell phone and plug-in usage. Supports OCR camera scanning. Up to 1 million characters per month can be downloaded to audio.
Plus Yearly: $9.17/per month. You can use all features of the Premium plan. Up to 500,000 characters per day can be converted. Up to 100+ voices with additional voice language options.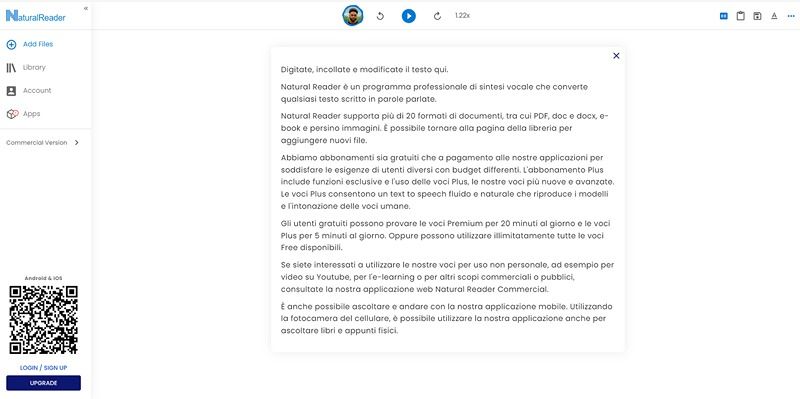 What is Text to MP3 Online?
Text to MP3 Online is a converter of text into audio output. It supports several languages and many voice types to choose from. Users can also add background music to the output audio according to their preferences for better results.
Available platforms: Mac OS and WindowsHow to Use it?
Step 1: After entering the page, we can see the red bubble on the left side, "Enter your text here" and enter the text in the box. You can enter up to 300 words at a time.
Step 2: On the right side, behind the flag, drop down to select the type of sound you need. The drop-down page also allows you to add background music to the audio of the output text.
Step 3: After selecting the background music, return to the position where you entered the text and adjust the volume. Click "Generate Audio File" to generate the input audio, then click the play button to listen and check.
Step 4: Click the three dots behind the audio bar and adjust the playback speed by clicking "Playback speed". Click "Download" to check and save.
Price:
Free: You can convert 5 times a day. Support 300 words per conversion.
15 credits: $4. With 5 file reserves, you can convert 15 more times than the free account, and a single conversion supports 300 characters.
Premium: $19.The unlimited number of conversions. Can convert 1000 words in a single session. 100 files for storage. Priority processing.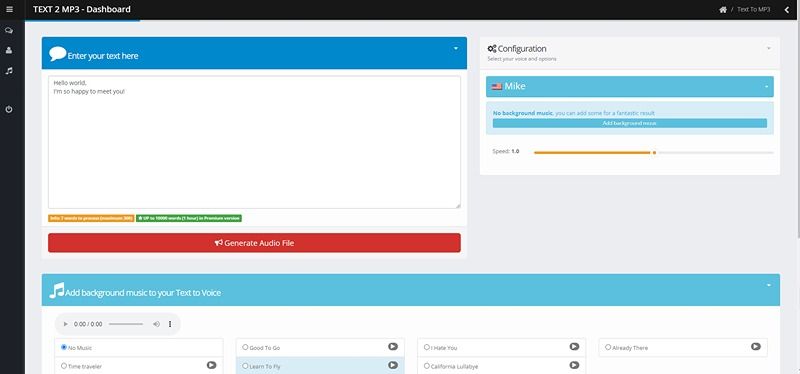 Text to Speech Service Faqs:
What is the simplest TTS software?
Freetts, bigspeak, are relatively easy to use. Compared to bigspeak, freetts supports more languages and has more sound types to meet users' needs. Freetts is efficient in audio transfer, and the audio quality is amazing!
Can I use freetts software for commercial?
Yes. You can. Freetts supports commercial use. Companies can use freetts to promote the neighborhood's culture and corporate videos with subtitles. characters created in entertainment games and animations, narration in movies can also be dubbed with freetts. Virtual assistants for cell phones we use daily can also be implemented by combining freetts with other technologies.
Do all text-to-speech tools have the same voice quality?
It depends on the technology used by the text-to-speech tool you use. Some software uses standard machine-generated voices, while others allow subscribers to use more natural human voices. These voices can show better results depending on the purpose of the audio, from female voices to male voices to children's voices. Depending on the purpose, different voice types are available.
Can I convert text to audio on my mac?
Of course. The five text-to-audio converters mentioned in the article are all online and fully available for Mac OS systems. Go to the web page to get started; individual tools can get more characters after logging in.