FreeTTS Review: What is it and How to Use it for Text to Speech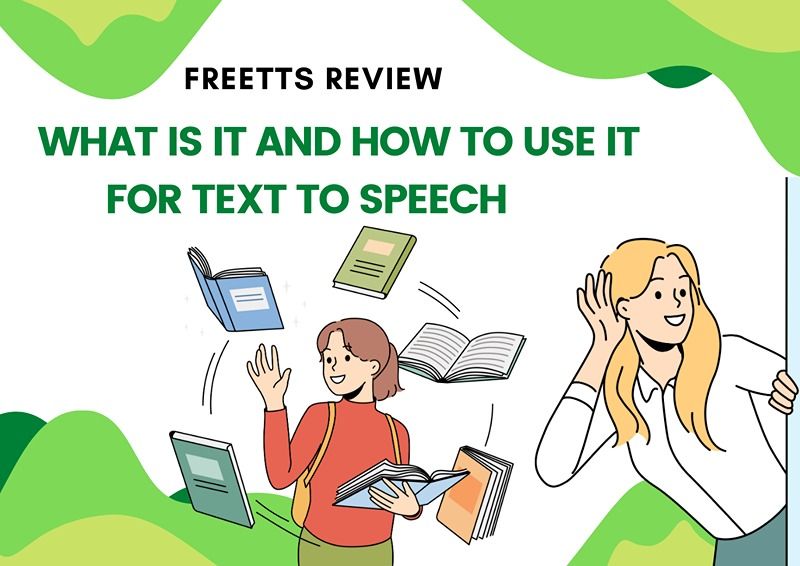 Introduction
Text-to-speech (TTS) technology converts written text to speech for output. The technology combines machine learning algorithms and natural language processing to accurately translate text into synthesized speech.TTS technology is used in various industries, such as education, entertainment and business. In education, TTS is used to provide audio textbooks to students. It helps students read and write better and improve concentration. In life, our navigation systems, voice assistants and other voice applications use TTS technology.
FreeTTS: What is it?
Overview of the tool:
Freetts is a text to speech online converter that supports multiple languages. Supports up to 50+ languages and accents for audio conversion. Not only male and female voices are available, but also a wide variety of voice types. There are Standard, Neural2 and WaveNet Google voice. It's easy to do with one click, and you can use it to your heart's content. It's easy to do with one click, and you can use it to your heart's content. Whether learning a language, dubbing subtitles for a video or proofreading text, text-to-audio frets can help you with all that.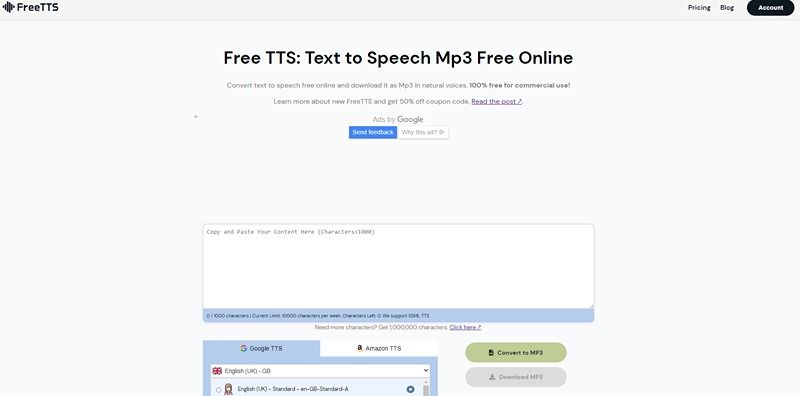 Key Features
Both male and female voices can be selected at once.
Support free use and login to get more characters to experience.
Supports more than 50 languages and accents, including English, Spanish and Mandarin.
Allows developers to customize TTS output using SSML (Speech Synthesis Markup Language).
The conversion process is simple and fast, combining Google's machine learning and TTS capabilities.
How Does FreeTTS Work?
The techniques used in FreeTTS include
FreeTTS generates a linguistic representation of the content by processing the text the user enters. This linguistics produces features including pitch, duration and amplitude of the speech. Finally, in digital signal processing (DSP) these acoustic features are synthesized into speech through algorithms. In other words, the text is converted into speech for output. freetts outputs high-quality audio by combining Google machine learning and TTS, a highly efficient process in the same genus.
FreeTTS Interface Introduction
At the top of the page is the navigation bar, and on the right side, there will be prices, blog and black account buttons. You can click on the corresponding button to find the corresponding information. When we enter the page, we see the text input box showing the characters' range. Then there is a selection of Google TTS and Amazon TTS voice types. We can see a drop-down list where you can choose the language consistent with the input text content as the transferred audio. On the right side, we can see two buttons, "Convert to MP3" and "Download to MP3". Then there are some features of Freetts and the SSML supported by freetts. After scrolling down, we will see a lot of flat flags for all the languages supported by Freetts. Of course, you can click on the icons and jump to the text input box. Finally, there is the FAQ module to see if there is an answer to the question you want to know.
How to Use FreeTTS
Step 1: Go to Freetts' official website: https://freetts.com.
Step 2: Copy the text to convert to audio into the corresponding box.
Step 3: Select google TTS or Amazon TTS and choose the language and accent you want.
Step 4: Select "Convert to MP3", click the play bar under "Download to MP3", and click the triangle icon to play to check the conversion effect.
Step 5: If you want to download, click "Download to MP3".
How Does FreeTTS Charge for Its Speech-to-Text Service?
Free account:
You can use 10,000 characters per week and up to 1,000 characters for word conversion.
Convert sounds to standard Google sounds only. SSML is supported.
Convert all the languages supported on the page.
Monthly plan account: $19/month
Supports 1,000,000 characters per month and 5,000 characters for a single conversion.
Sound type support for Standard, Neural2 and WaveNet Google Voice.
Support for all languages that support SSML and provide conversions.
Annual plan account: $99/year
Up to 10,000,000 characters per month, with a maximum of 5,000 characters for a single conversion.
Standard, Neural2, WaveNet Google Voice. All three voice types are supported.
In addition to the conversion process, users can choose any language supported by the tool, and SSML is supported. For daily use, depending on the number of conversions you make and the number of characters you have, you can first try a monthly subscription plan. If the number of characters in the monthly plan is insufficient, you can consider upgrading to the annual plan. The service is the same as the monthly plan except that the annual plan has more characters. You can consider the suggestions and choose wisely according to your needs.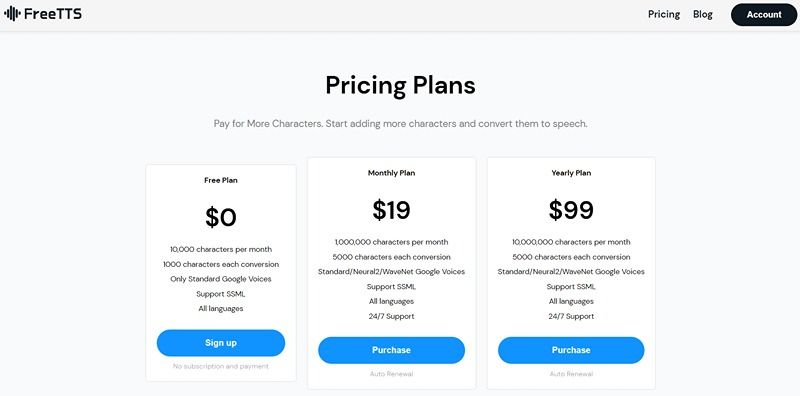 FreeTTS: Pros and Cons
What I like
The interface is simple and intuitive. You can see the text box.
Protect user privacy. All uploaded audio is deleted within 24 hours.
No need to register to enter the web page to use. Faster and more convenient.
Commercial support is very friendly to many companies and users with commercial use.
More than 50 languages and dialects to choose from to meet the diverse needs of users.
Easy to use, fast processing and high sound quality. It increases efficiency and guarantees excellent results.
What I dislike
Web tools need to be web-based. Network quality issues can affect the user's sense of experience.
What Can I Do with This Text-to-Speech Software?
Language learning
Text-to-speech tools can help beginners learn a new language. By inputting text and outputting audio, learners can better improve their writing and speaking skills. It improves oral fluency while training the learner's reading skills and slowly progresses to mastery of the language as it is used.
Content creation
Greatly increase the efficiency of proofreading by reading the text aloud. Reduces overuse of the eyes and better identifies grammatical errors in the text. Freetts can also be helpful for content creators. Reading the text aloud after completing and reviewing the creation can inspire and motivate the author. Authors can refine and improve their content by optimizing and adjusting it.
Entertainment
In terms of entertainment, the uses of converting text to text are also diverse. For example, voicing short videos, games and new media cartoon characters. Freetts supports multiple languages and accents, and by exploring the process of using it, the output becomes more creative and diverse.
FreeTTS Review Wrap UP
The function of voice-to-text is very useful. We can use freetts to dub our subtitles when editing videos. When we are learning a language, we can convert text to audio by converting it to learn pronunciation and intonation. Companies can use it for promotional videos or corporate neighbourhood culture promotion. Freetts can dub the voice of the created anime characters. Because commerce is free, the whole process becomes more fluid. Text-to-speech has been integrated into our lives, and we can develop new uses using it. Are you a little excited about trying this text-to-speech software? Let's explore it together!
Also Read: Know The Uses and Benefits of Text-to-Speech Software