Step-by-Step Guide to Add Text to Speech to Youtube Videos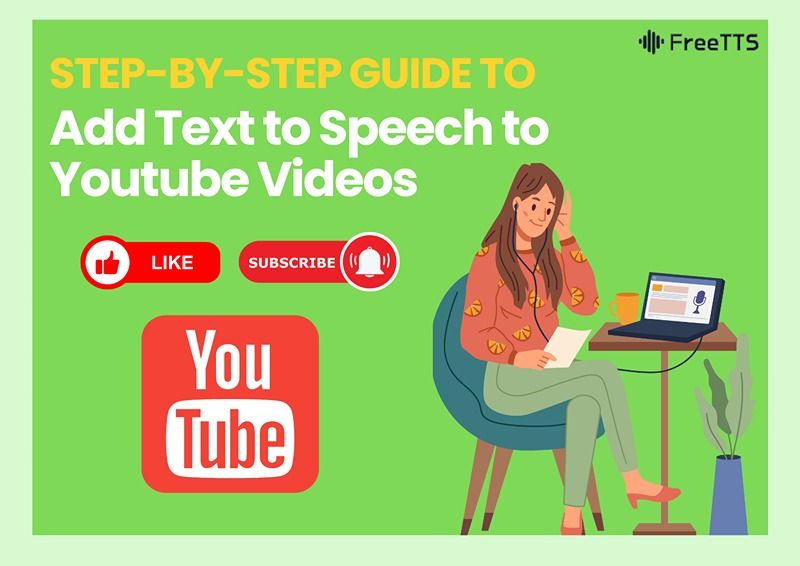 Text-to-speech for YouTube
When we have the question, what else do you think besides searching in Google? We can search on the video platform youtube! Video conveys information more efficiently and directly than reading articles. Youtube has various content creators, some with original voices and some with voiceovers. This is why text-to-speech is becoming increasingly popular among these content creators. Creators can output text content as audio commentary using TTS technology, eliminating the need for original voiceovers and increasing efficiency. Let's see how TTS technology can be used in youtube videos!
Why do We Need Text-to-Speech for YouTube Videos?
Removal of barriers: More friendly to people with visual impairment and dyslexia, it is easier to understand the video content by listening.
Multiple languages: There are text-to-speech tools that support multiple languages so that you are not limited by language. You can make the video content in various languages so that users from different countries can access the content you create.
Consistency: Each voice type can be selected to ensure a consistent and even tone of voice narration in your videos. Avoid duplicate recordings with manual voiceover corrections and help users understand the content correctly.
Overhead savings: Using text-to-speech technology saves the expense of hiring a voiceover and translator. It also makes the process more efficient.
Increased engagement: Users then watch the video not only visually but also aurally. Viewers mind reading along, increasing engagement and a better understanding of the content.
How to add text to speech to videos step-by-step
Write your script
Writing a script for creating a video is essential, and it differs for different types of videos. You don't need to write every word if your content has lots of text on the screen. You can use text-to-speech technology to transfer some text to audio in your script. Ensure your key point or audio emphasizes these. This will allow the viewer to focus less on the subtitles all the time and more on the video.
Select a Simple Text to Speech Software
If you want to easily make text to speech videos, choose the best voiceover for your creation. By taking the help of a good text-to-speech voice maker, you can get twice the work done. Let's look at the most popular of the text-to-speech tools, FreeTTS, and see how well it performs.
FreeTTS is a popular and efficient online text-to-speech converter. Combining the most advanced speech synthesis algorithm TTS with Google Machine Learning, the steps are simple and high-quality audio output. It is free to use to unlock more characters by signing in.
It supports more than 50 national languages and dialects, with more than a dozen voices to choose from in each language. It allows you to change your videos to multiple language expressions and a wider audience of fans.
Voice types include standard, natural, wavenet, and various female and male voices.
FreeTTS is very good at protecting the privacy of its users. Delete uploaded audio in 24 hours. It is commercially supported and very friendly for all studios or businesses. Its operation and conversion process is very simple and efficient, a great helper to streamline our workflow!
Choose The Voice That Fits Your Style
What kind of voiceover style you need for the video you create must be tried several times. From accents to staccato to tone of voice, what is your video's best type of voice? We just learned that there are dozens of FreeTTS voices to choose from, from standard to natural. You will always find the right voice type, from narrative to genuine, cute or official.
Pictures are prevented from infringement by setting a watermark, and in the dubbing created by yourself, you can add a single time or brand with a signature voice read out as a mark to prevent infringement in your dubbing. The premise is that these types of voices are supported for commercial use, and the voices in the FreeTTS tool are supported for personal and commercial use.
Upload Your File or Input Text Into TTS Tool
Once the script is ready, you can easily use the text-to-speech tool to get the audio. Paste the text from your script into the text box of FreeTTS. The number of characters that can be converted in a single pass varies by account type. Free accounts can convert up to 1000 characters in a single session, while paid accounts can convert up to 5000 characters in a single session.
Let TTS Read Your Text Aloud
Now we need to choose our favourite and most appropriate voice type. Select Google TTS or Amazon TTS, then select the country matching the input text. There are many languages to choose from under each language, and you can click the play button after each sound type. If you want to hear the effect of the converted input, click "Convert to MP3" and click the play button of the pop-up audio to try it out.
Download the Completed Audio File
The sound matches the script better when you try it, and everything sounds harmonious. Click "Download MP3" to save the audio locally. If customization is needed, FreeTTS also supports SSML to provide pause details, intonation, abbreviations, speaker's breathing and regional pronunciation for better audio effects.
Import The Audio File to The Video Editing Tool
Depending on the video editing software you are using, import the audio you just saved in the sound option. If it is multiple segments, follow the timeline to import it and adjust it to sync with the video. Depending on the effect of the video, you can also add background music so that you do not need to record a word to complete the dubbing of the video.
Final thoughts on text-to-speech editors for YouTube videos
If your video has always been the original voice dubbing want some innovation in the video to make fans shine, a different dubbing is worth a try! If you want to increase your productivity, this will be more efficient than traditional dubbing. No need to repeat the recording. Use text-to-audio technology to match your creative videos and enrich your channel. Paste the text in the script to select the sound type to get the corresponding audio easily with one click, and a variety of sound types to make your video present a better new effect and style. There is no limit to your creative style. Let's try it together!