FreeTTS Review: Convert Your Text to Natural Sound Online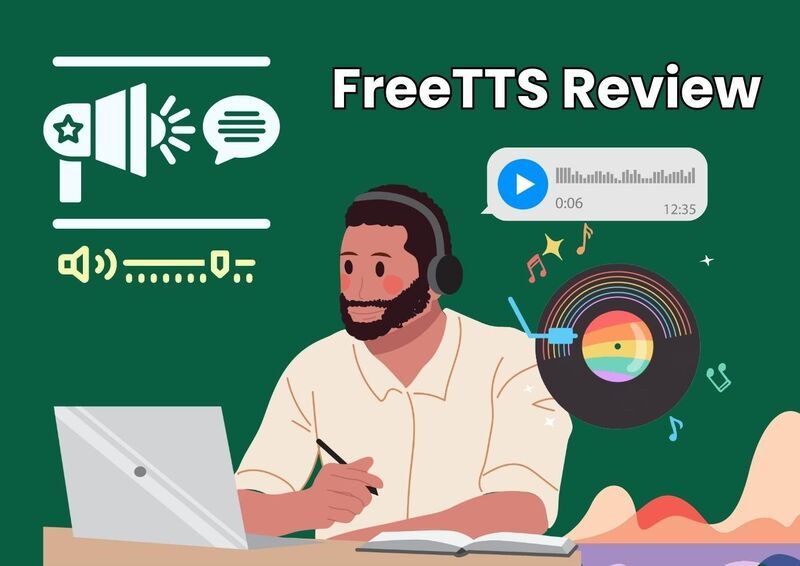 The remarkable technology of Text to Speech (TTS) software converts written text into audible words, making it easier for people to access and consume information in a digital age that's awash with content.
TTS is a lifesaver for individuals who have trouble reading or are visually challenged. TTS technology has grown in popularity, particularly online, with the rise of digital media and the vast amount of online content.
Text to speech online tools is an excellent example of technology that makes life easier. TTS software reads textual material aloud so that users don't have to strain their eyes.
This is particularly useful for commuters who are always on the move and may not have the time or capacity to read a paper while on the go. With the help of TTS, users can now easily convert text to audio or mp3 files, making it more convenient for them to listen to written content while engaging in other activities.
When choosing the right text to speech software, the variety of online tools can be overwhelming. One of them is FreeTTS, which this article is going to review.
FreeTTS: What is it?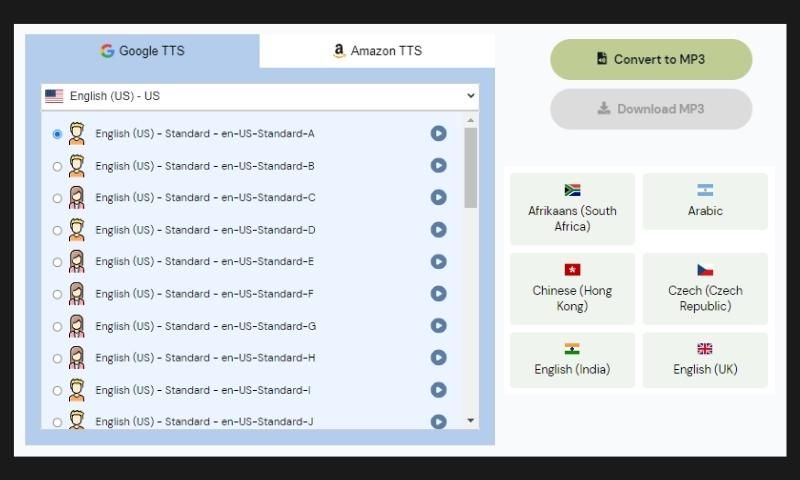 FreeTTS is a cutting-edge online program that converts text to speech (TTS), providing quick and accurate conversions ideal for those who prefer listening to reading, especially while on the move.
This tool benefits visually impaired individuals, senior citizens with weak vision, and students looking to study more effectively. FreeTTS supports 16 languages, including English accents from the United Kingdom and the United States, French, Italian, and Japanese.
The TTS engine is powered by machine learning technology developed by Google, which enables it to convert text to voice swiftly and accurately.
Additionally, FreeTTS is completely ad-free and ensures the security of users by deleting audio files within 24 hours.
This straightforward tool does not require registration, but it can only convert up to 2000 characters at a time, which may be a drawback for some users.
FreeTTS Interface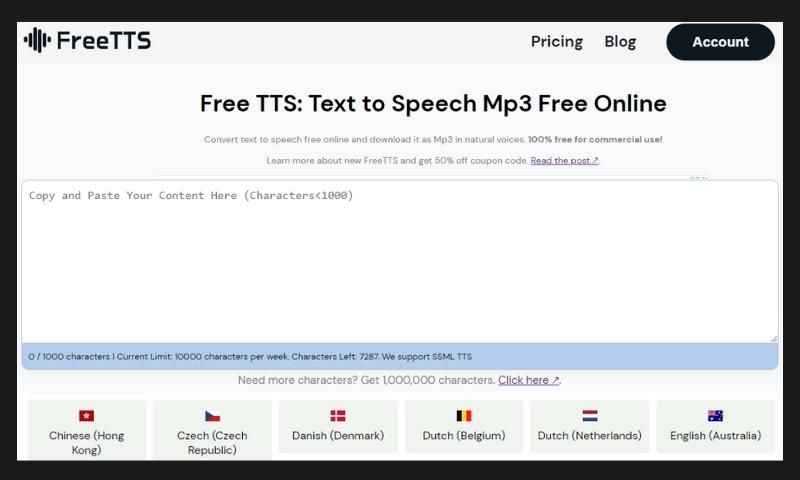 The online text-to-speech (TTS) program called FreeTTS boasts an intuitive user interface that makes it easy to use. As you navigate to the website, you'll notice a text box where you can input the written material you want to be converted to speech.
A drop down menu is provided for convenience, featuring a variety of languages, including English (both UK and US accents), French, Italian, Japanese, and more. You can choose the language you want to communicate in.
Another dropdown menu allows you to choose a male or female voice for your selected language. After making your choices, click on the "Start" button, and the software will immediately process text conversion to speech.
If you prefer to save the audio file to your device, there's an option to download it as an MP3 file. FreeTTS also provides sample audio for all languages, with male and female voices available for comparison so you can get a sense of how the final output will sound before downloading.
The FreeTTS interface is easy to understand and straightforward to use. Since it allows for rapid and straightforward text to voice conversion, it is a valuable tool for various applications.
How to Use FreeTTS
Freetts is one of the most convenient text reader for anyone who prefer listening to an audio to reading long text. Using FreeTTS is a straightforward process, so you don't need to have any skills or knowledge. If you are a newbie and not familar with this TTS software, follow these steps to get started.
Step #1 - Visit the main page of FreeTTS website to convert text to voice online and create an audio file in mp3 format.
Step #2 - Once on the website, you are greeted with a large text box where you can input the material you wish to convert to audio.
Step #3 - Select the language you want to use from the dropdown menu. This site supports most of the world's languages.
Step #4 - Choose a voice style from the dropdown menu. You have the option of selecting a male or female voice to accompany your selected language.
Step #5 - Click "Convert to MP3" to initiate the conversion process. The text to speech software will process your text into audio in just one second.
Step #6 - After the process is complete, listen to the audio by clicking the "Play" button. To save the audio file as an mp3, click the "Click to download audio" button on the page.
How Does FreeTTS Charge for Its Speech to Text Service?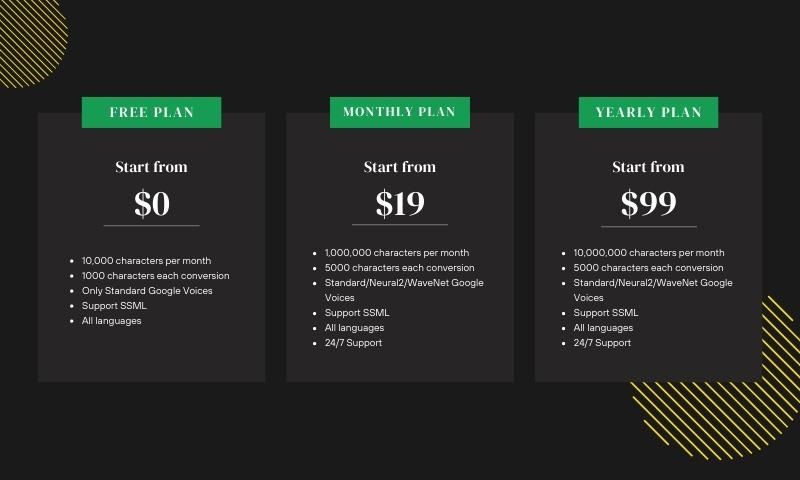 FreeTTS is a completely free text-to-speech (TTS) web application. You can use it to generate various voices without registration or subscription. The TTS engine used by FreeTTS is developed by Google, ensuring high-quality audio output. It ensures that any audio file produced is automatically deleted after 24 hours, providing complete data privacy and security for users.
But with a free account, you can not unlock all supported voice models. And the available characters are limited. It supports a single use of 1000 characters and a maximum of 10,000 characters per week. To access FreeTTS's full service without limits, you can upgrade to a paid account.
There are 2 pricing plans for your selection, including monthly plan and annual plan. The former plan will cost your $19 monthly, allowing you to input up to 1,000,000 characters per month and convert up to 5,000 characters in a single conversion session. Additionally, it also supports Standard, Neural2 and WaveNet Google Voice. And the latter will cost you $99 per year, supporting up to 10 million characters and up to 5,000 characters in a single conversion. Users can experience all languages supported by this tool.
It's hard to say which package is right for you. Whether you upgrade to a paid membership depends on your own preferences and actual usage.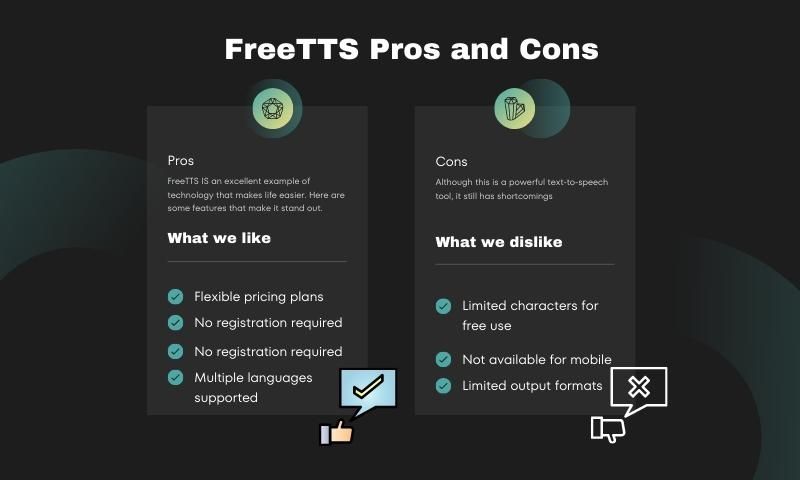 Pros of FreeTTS
Sample audio readily available - FreeTTS provides sample audio for all languages, both male and female versions of the spoken language, offering users a sneak peek of what they can expect from the finished product when using text to speech online.
Flexible pricing plans - This web-based tts tool offers different pricing plans to suit your needs and preferences. Users can choose a free package to save money or opt for a monthly/yearly plan to enjoy all the premium features. And it's much cheaper than most competitors in the market, making it a great choice for users looking for value for money.
No registration required - FreeTTS requires no registration or sign-up for an email account from its users, saving them valuable time and making the text to speech mp3 conversion process much more effective.
Technical assistance - FreeTTS guarantees that all users will receive free technical assistance if they have any problems with the text to speech software. If you need help, you can contact the staff using the email address provided on their official website, ensuring that you always get the support you require to make the most of the text to voice tool.
Multiple languages supported - FreeTTS offers support for a broad range of languages, including English, Spanish, French, German, Italian, and Portuguese, among others, making it a useful tool for users all around the world to convert text to audio.
Open-source technology - As an open-source text to speech software, FreeTTS enables users to customize and adjust it to their own requirements, making it especially useful for developers who want to add text-to-speech functionality to their own apps and take advantage of this feature.
Cons of FreeTTS
The limit for this text to speech software is 2000 characters, exceeding which an error message is displayed. It would be advantageous if the text to speech mp3 converter could support larger character limits, such as 5000 or beyond, as this would significantly enhance the user experience. Implementing such a feature would benefit those who require a more extensive text to voice conversion service.
FreeTTS offers sample audio, requires no registration, provides technical support, supports multiple languages, and uses open-source technology. The software's only con is the 2000 character limit.
What are The Best Alternatives to FreeTTS
If FreeTTS is not what you're looking for, the apps below might be viable alternatives.
Murf AI - This AI-powered text-to-speech software uses natural language processing to generate audio that sounds as realistic as possible. It offers a range of speech options and can even detect emotions in written text.
Textmagic - This online tool for converting text to speech allows users to choose from male or female voices and various languages. Additionally, the pace of playback can be customized and audio recordings can be saved in various file formats.
Speechify - Available as both a web app and mobile app, Speechify features a user-friendly interface and can read text from diverse sources, including websites and PDF documents. It also offers several voice options for users to choose from.
Summary
FreeTTS is a convenient and user-friendly online tool that quickly and accurately converts text to speech, making it ideal for those who prefer listening over reading. With support for multiple different languages and accent, it's beneficial for individuals with visual impairments, older adults with diminished eyesight, and students looking to enhance their study skills.
Whether you need a TTS engine for personal or commercial use, you'll get the best text to audio service quickly and securely at FreeTTS.com. Feel free to give it a try to make your life easier and share your ideas below to help us grow better!